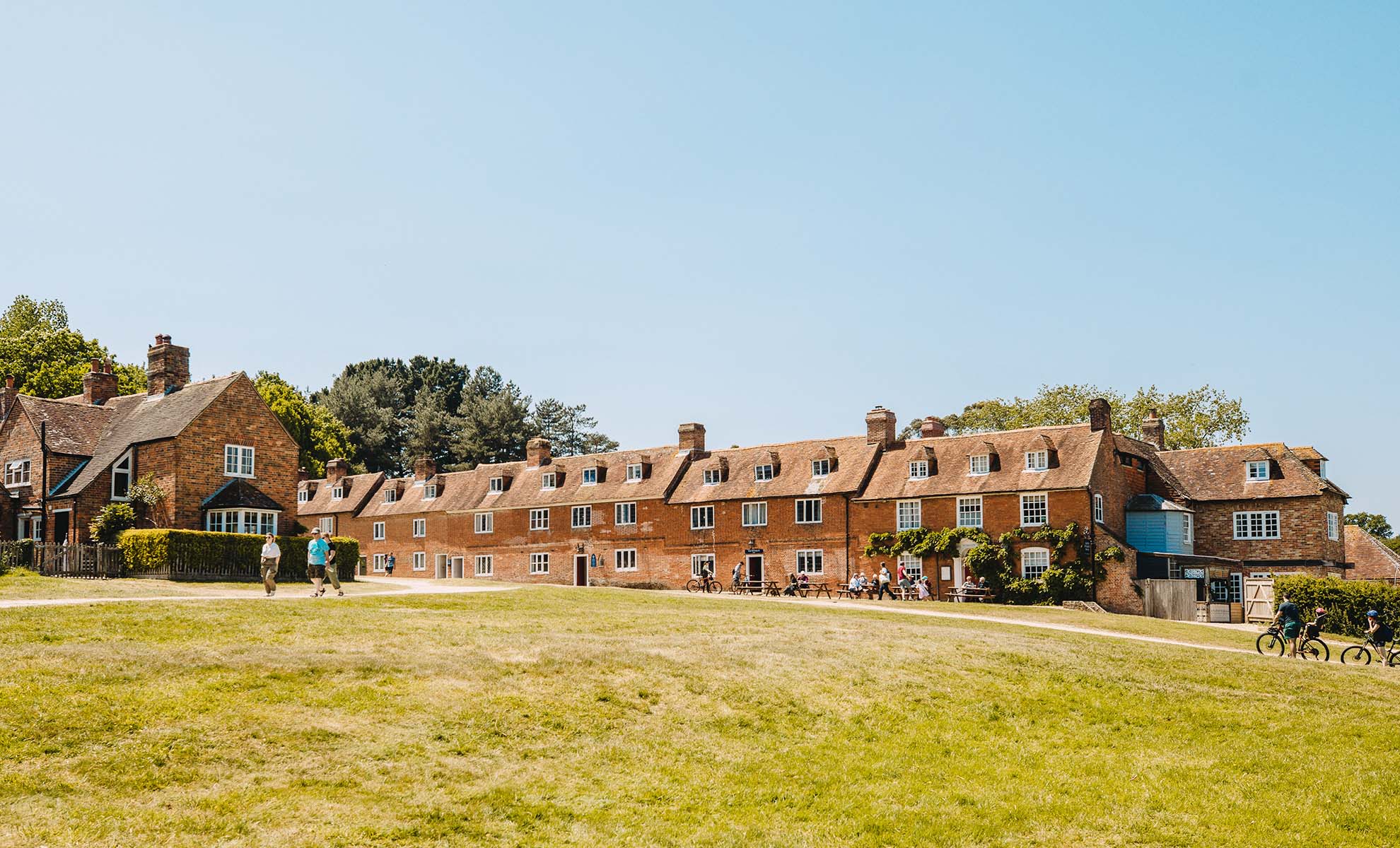 Frequently asked questions
---
We've answered some of your most frequently asked questions to help you plan your visit to Buckler's Hard.
Buckler's Hard village is free to enter. For those arriving by vehicle, a parking charge applies, which helps us maintain this heritage site. There is an extra charge for the Buckler's Hard Museum and the seasonal River Cruise. Find out more about our tickets and prices.
Last admission to our indoor spaces is 30 minutes before closing time. Today's closing time can be seen in the header of this website. Last entry to the car park is 5pm and the exit gates are locked at 8pm.
We usually recommend half a day in order to explore the attraction, although many visitors prefer to stay longer.
Family tickets to the Buckler's Hard Museum and River Cruise cover either:
2 adults and up to 3 children (ages 5-17 inclusive)
1 adult and up to 4 children (ages 5-17 inclusive)
Under 5s go free!
Yes, please call 01590 616203 for details.
We welcome cyclists, and bike racks are located in the coach park at Buckler's Hard, adjacent to the main car park. Cyclists will need to bring their own locks to secure their bikes, which are left at the owner's risk.
Yes, the village is an ideal destination for walkers, and there is a scenic 2 mile footpath between Beaulieu and Buckler's Hard.
No, the only place from which small paddle craft can be launched on the Beaulieu River is the slipway at the Buckler's Hard Yacht Harbour further along the Beaulieu River. You will need to pre-book your launch by visiting www.beaulieuriver.co.uk.
Yes, a parking charge applies to those arriving by vehicle, which helps us maintain this heritage site. Regular visitors can make great savings with our annual parking pass. See car parking prices.
Yes, we have a designated car park area for disabled drivers. Parking charges apply.
Motor homes and caravans are welcome to park in the overflow car park. A parking charge applies, and please note there is no overnight camping. We welcome caravan rally bookings – click here for details.
Although we are constantly working to improve access to Buckler's Hard for disabled visitors, this 18th century naval village is, due to its historic nature, not easy for wheelchair access. The site has remained largely unchanged for centuries and most of the paths are gravelled, while there are some steep slopes and narrow doorways. Ramps are provided into the entrance, tearoom and lower level of the Maritime Museum, with level floor access into St Mary's Chapel. A fully accessible toilet is provided. While we welcome disabled visitors on board the River Cruise, for safe access, a degree of mobility is needed. Adults who use a wheelchair must be able to walk a few steps to access the vessel, due to the design of the jetty. Each wheelchair must be accompanied by an attendant to assist the disabled visitor in the event of an emergency on board. Please read our Accessibility section for more details.
Buckler's Hard is a beautiful place to walk, however please be aware that the village is situated on a gentle hill which slopes down to the river. Due to the geographic location of Buckler's Hard parts of the village have uneven surfaces and you may encounter natural hazards such as tree roots.
Yes, there are picnic benches at the bottom of the village street.
Dogs are now welcome in the village, as long as they are kept on a lead at all times and owners clean up their mess. They are also welcome in the Museum and Captain's Table Tea Rooms as long as they are kept on a lead at all times. Dogs are not permitted in the cottage displays (except for guide dogs). Dogs are allowed on the River Cruise, but must be kept on a lead.
No, the use of unmanned aerial vehicles or drones by visitors for film and photography purposes whilst at Buckler's Hard is strictly prohibited.