Accessibility
---
Buckler's Hard is committed to making its services accessible for all and our staff are trained to the latest standards to ensure you enjoy your visit.
Due to the historic nature and riverside location of Buckler's Hard, some areas are less accessible to visitors with limited mobility. We firmly believe that targeted improvements in the right areas can make all the difference and we are working with our visitors and local access groups to identify where the improvements are most needed and practicable to do.
Please download our Access Statement to see detailed information about the facilities and services we offer to help you plan your visit.
---
Buckler's Hard accessibility map
This map provides more detailed information about accessibility around the Buckler's Hard village.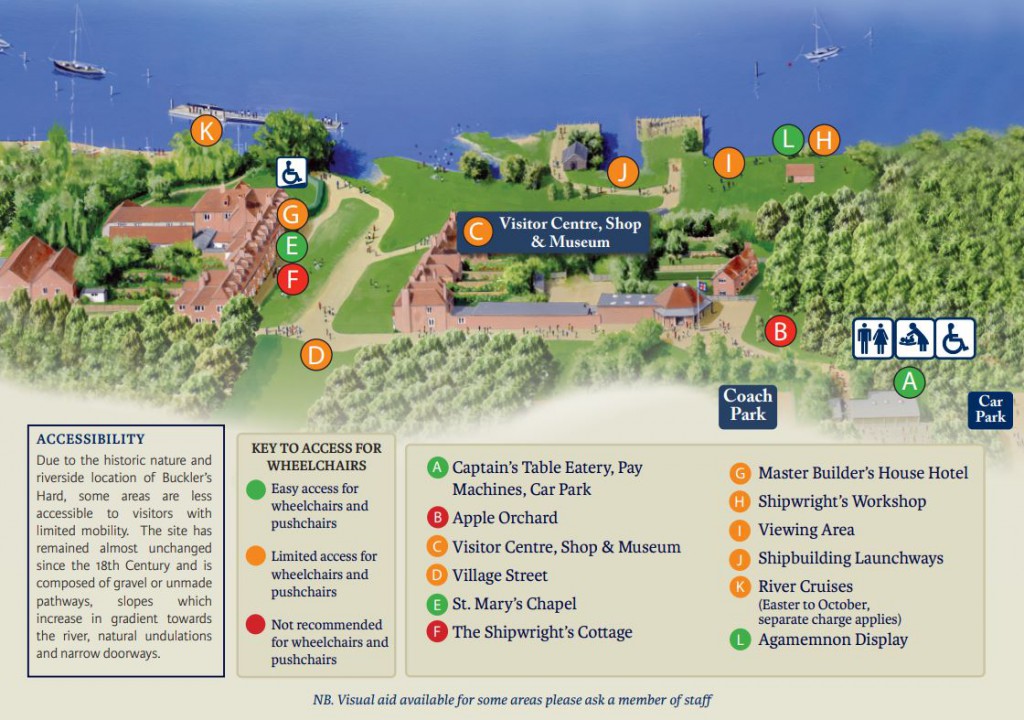 ---
Wheelchair access
Buckler's Hard has remained almost unchanged since the 18th century and is by its nature not easy for wheelchair access. The site includes mainly gravel paths, some steep slopes and narrow doorways and stairs to historic buildings. The Visitor Centre and
 Museum
 at Buckler's Hard is on various levels as it is located within historic buildings.
Due to the geographic location of Buckler's Hard parts of the village have uneven surfaces, also please be aware of natural hazards including tree roots.
Please see our Access Statement for a full list of facilities we provide to help wheelchair users navigate Buckler's Hard.
---
Hearing impairments
There is a hearing loop available at the admissions desk.
---
Parking & toilets
There are three spaces allocated for disabled visitors, located less than 50 metres from the main visitor entrance. If these spaces are unavailable there is plenty of parking in the same area.
There is a fully accessible toilet adjacent to the Captain's Table.
---
River cruise
We welcome disabled visitors on board the 
river cruise
, but for safe access a degree of mobility is needed.
Due to the jetty and vessel design, adults who use wheelchairs must be able to walk (assisted if necessary) for a few steps to access the vessel and leave during an emergency evacuation. Crew can assist but are not permitted to lift occupied wheelchairs. Each wheelchair must be accompanied by an attendant to assist the disabled person in the event of an emergency on board.
We regret that both manual and electrically propelled wheelchairs cannot be carried due to difficulties that might arise in the event of an emergency.
---
Guide dogs
Assistance dogs are welcome and can be used to access all areas of the site, including the River Cruise subject to timetable.
---
Your feedback
We welcome comments on our services and hope that by working closely with visitors and interest groups we can improve accessibility to Buckler's Hard. Please ask for our accessibility questionnaire during your visit.
---
Access queries
If you have any queries ahead of your visit please contact us on 01590 616203 or email 
visit@bucklershard.co.uk
.