New book reveals lost voices from the SS Persia as lucky escapee joins museum collection at Buckler's Hard
A previously untold account of the passengers lost aboard P&O liner SS Persia has gone on sale at Buckler's Hard, at the same time as a book that narrowly escaped the tragic sinking goes on display in the Maritime Museum.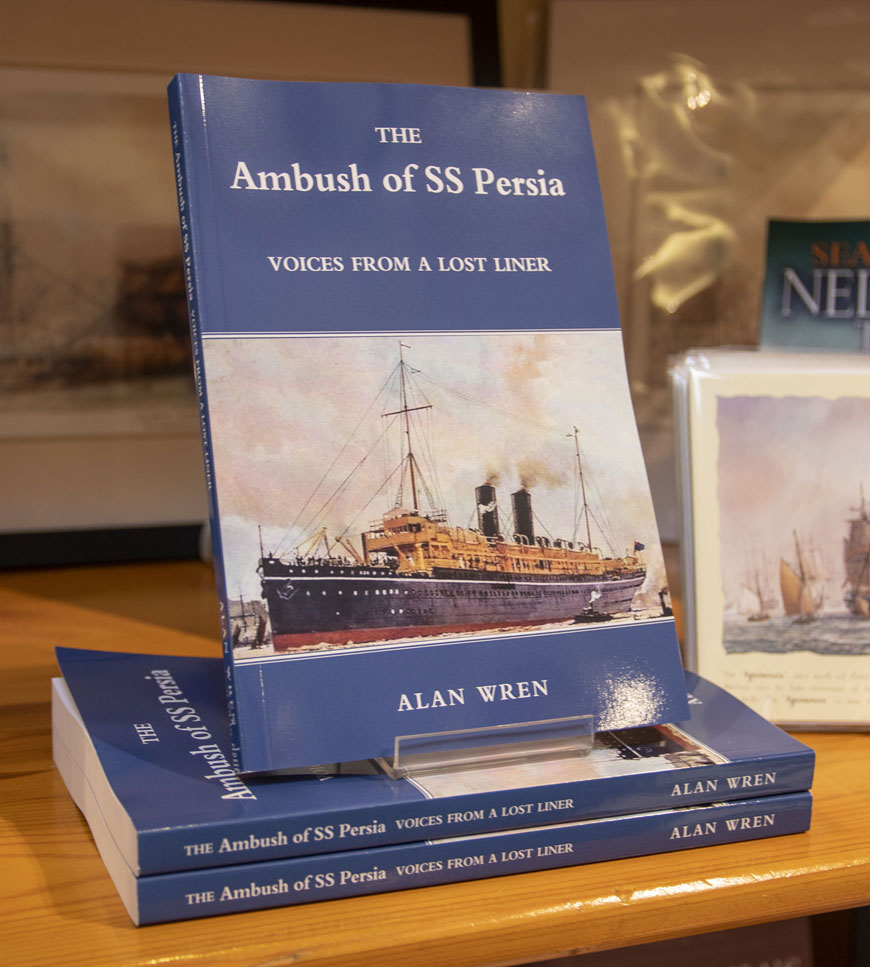 'Who would willingly have boarded a passage to India at Christmas 1915, knowing that a U-boat might attack anywhere along the route to the Suez Canal?'
This is the question that Alan Wren's meticulously researched book asks. To voyage at this time was more about duty than choice, and the SS Persia passengers knew and accepted the risk. Sadly, most would never arrive.
Alan's book reveals the stories of those aboard the SS Persia when it was torpedoed without warning on 30th December 1915. Including tales of murders, lovers, villains, outstanding heroes and heroines, tiny children and the huge fortune lost in ten minutes between a torpedo strike and the liner sinking, his history pays tribute to the 343 lives that were lost that day.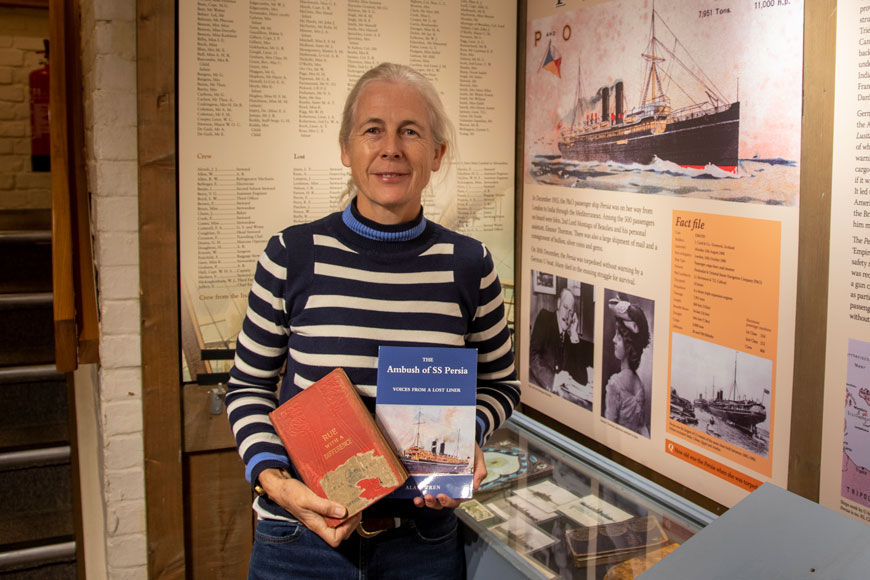 Alan Wren, who lives locally, said: "I visited the SS Persia display at Buckler's Hard in 2015 and was intrigued, so asked if they stocked a book to follow-up the display. There was no such book then, but there is now! I spent 5 years researching, with superb help from the creators of the display."
Alan's book can now be purchased from the Maritime Museum Gift Shop at Buckler's Hard, where visitors can also see artefacts recovered from the wreckage in a special SS Persia display.
Brand new to the display is a 120-year-old book that had a lucky escape from the ill-fated liner. Rue with a Difference by Rosa Nouchette Carey, published in 1900, was originally housed in the Officer's library of the ship, but was later found in a shop in Italy. Researchers believe someone borrowed it from the officers' library and took it ashore, then failed to return it. A fortuitous mistake!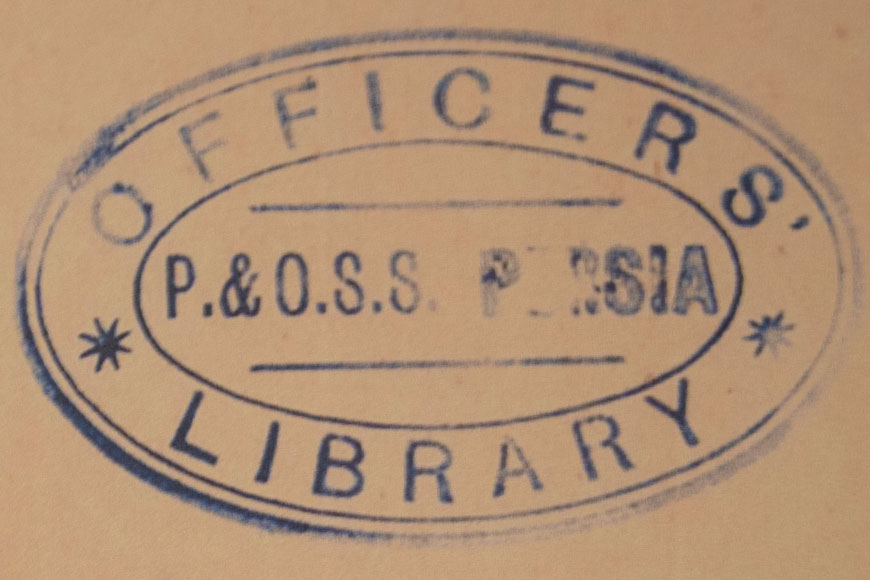 Alongside Rue with a Difference, visitors can also see examples of precious gems once believed to have belonged to the Maharaja Jagatjit Singh, which are still in remarkable condition despite being at the bottom of the sea for 88 years.
Recovered by British firm Deep Tek in the world's deepest salvage operation of its kind to date, the collection of gems included real rubies, amethysts, moonstones and some of the earliest known synthetic rubies. As well as offering some of the gems for museum display, Deep Tek also gifted gems from the collection to create a limited edition commemorative jewellery line. If you'd like to own an exclusive piece of history, the last few remaining pieces of the SS Persia Jewellery Collection are now available for purchase – please enquire here.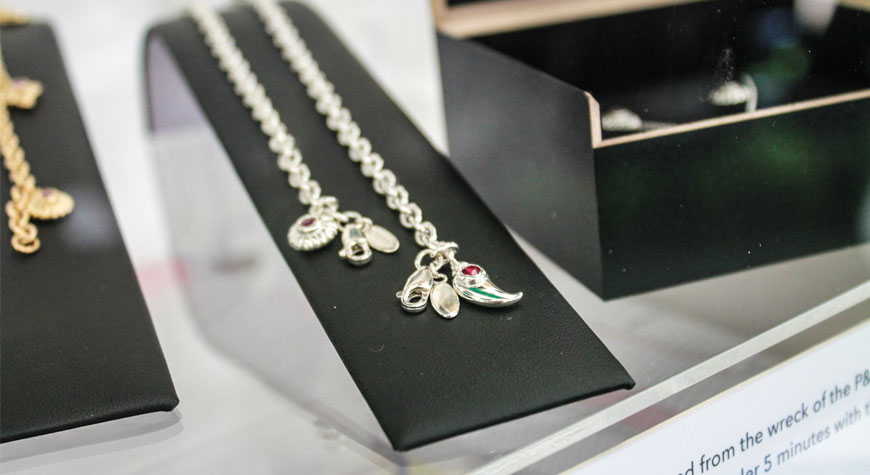 Entry to the SS Persia display and the 
Maritime Museum
 are included in your admission to Buckler's Hard, which also includes entry to the historic village, Shipwright's Cottage and all day car parking. Tickets can be 
bought online
 and regular visitors can take advantage of an 
annual pass
, which offers unlimited visits to Buckler's Hard and 10% discount on gift purchases from the Maritime Museum shop.
The Ambush of SS Persia: Voices from a Lost Liner by Alan Wren can be purchased for £12.95 from the gift shop at Buckler's Hard, or online from York Publishing.
Join the Buckler's Hard newsletter
For all the latest offers & happenings here...